2023.01.20
Introduction of Aichi University
Aichi University was established in 1946 and has 3 spacious campuses located across Aichi Prefecture in central Japan. A private liberal arts university, we have 7 undergraduate faculties and a junior college, and a graduate school consisting of 6 departments. In addition, there are a law school and 9 specialist research institutes/centers. We also take pride in its library with a collection of approximately 1,380,000 books , the scale of which far exceeds that of any other university throughout Japan. The most salient feature of the collection is a large number of Chinese books, which is closely related with our forerunner, Toa-Dobun-Shoin, established at Shanghai in 1901.
Aichi University now has approximately 10,000 students vigorously pursuing their interests in studies, research, culture, arts, and sports. We are also the center of a rich range of international exchange, benefitting its mission statement of "Foster the human potential by recognizing global wisdom and common outlook". Faculty and Graduate School department of International Communication Studies, those of Modern Chinese Studies, Institute of International Affairs (AIIA) as well as International Center of Chinese Studies(ICCS) especially contribute to this center of international exchange.
We are pleased to announce that we have joined the United Nations Academic Impact. Since its foundation, Aichi University has been promoting activities in line with the 10 principles and the goals of the SDGs, and we will take this opportunity to further deepen these activities on a university-wide basis.
2. A commitment to human rights, among them freedom of inquiry, opinion, and speech;
4. A commitment to the opportunity for every interested individual to acquire the skills and knowledge necessary for the pursuit of higher education;
5. A commitment to building capacity in higher education systems across the world;
6. A commitment to encouraging global citizenship through education;
7. A commitment to advancing peace and conflict resolution through education;
8. A commitment to addressing issues of poverty through education;
9. A commitment to promoting sustainability through education;
10. A commitment to promoting inter-cultural dialogue and understanding, and the "unlearning" of intolerance, through education.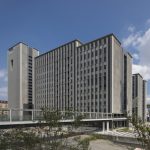 Recent Articles