2016.04.28
Winners Announced for the United Nations Poster for Peace Contest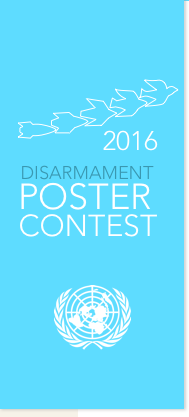 UN Secretary-General Ban Ki-moon, General Assembly President Mogens Lykketoft and United Nations Messenger of Peace Michael Douglas will congratulate artists who won the United Nations Poster for Peace contest on 3 May from 6:15 p.m. to 6:45 p.m (NY time).
The United Nations Office for Disarmament Affairs organized the Poster for Peace contest to raise awareness for the need for nuclear disarmament and to inspire citizens across the globe to use their artistic talents to promote a world free of nuclear weapons. The contest ran from 24 October 2015 to 24 January 2016.
The contest attracted 4,149 entries from 123 countries and the specially designed website received 200,000 page views from more than 180 countries. A Japanese applicant also received an honorable mention.
For details (https://www.unposterforpeace.org/)