2021.05.31
Introduction of St. Marianna University School of Medicine
Respect for the dignity of life is the foundation of all medical education. Basing this dignity on the Christian love of humanity is the key to medical practice
at St. Marianna University School of Medicine. Ever since its founding as Toyo Medical College in 1971, St. Marianna University School of Medicine has been building an ideal environment for medical education through the addition of hospitals, a Nursing Junior College, and a Graduate School. The essence of this education is the training of physicians who place importance on the dignity of life, their sense of mission to help individuals in need, and commitment to improve the welfare of humanity. Every physician's spiritual backbone is the dignity of life and respect for living beings. At St. Marianna University School of Medicine, we practice a complete medical education based on the "heart of medicine."
We conduct activities related to the UN Academic Impact in education, research, and medical care, particularly in the following principals: Principle 10: A commitment to promoting inter-cultural dialogue and understanding, and the "unlearning" of intolerance, through education.
We have had students and researchers from Korea, China, France, and Indonesia and our students go to China, Korea, the U.S., and Canada for clerkships.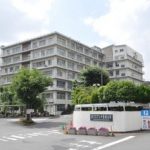 Recent Articles