2020.07.02
NAIST Tokyo Forum 2019
The NAIST Tokyo Forum 2019, "Science for the 100-year Life ~Advanced Technology to Solve Social Problems" was held on Wednesday. October 9.
Followed the opening remarks of Nara Institute of Science and Technology (NAIST) President YOKOYA Naokazu, Dr HAMAGUCHI Michinari, President of the Japan Science and Technology Agency (JST), delivered a keynote speech, "Science and Technology Innovation in Japan and JST's Approach". Mr. TAGAWA Shunei, the abbot of Kofukuji temple, also delivered a special talk titled "Gaze into your Heart: To Live a More Prosperous Life".
In the closing panel discussion, Ms. FUJISAWA Kumi, representative of SophiaBank think tank, acted as facilitator and three Associate Professors from Institute for Research Initiatives at NAIST, Dr. MATSUBARA Takamitsu, Dr. YOSHIDA Shosuke and Dr. HATANAKA Miho joined the above speakers as panelists and actively exchanged of opinions about the final theme "Advanced Technology and its Implementation into Society in the Era of SDGs".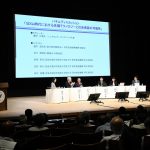 Recent Articles