2015.04.08
United Nations 70th Anniversary Symposium
On Monday, March 16, the United Nations 70th Anniversary Symposium was held under the sponsorship of the Japanese government and United Nations University. As a panelist, HOSHINO Toshiya (Vice president and Professor, Osaka University) attended the symposium at U Thant Hall in the United Nations University Headquarters.
The symposium was held under the theme of "The UN at a Critical Juncture: Looking Toward a Year of Reform and Renovation" with Prime Minister Shinzo ABE and Secretary-General of the United Nations Ban Ki-moon in attendance. Vice president Hoshino took part in the panel discussion in the second part of the symposium and made a proposal on challenges in the UN reform including what role the UN Security Council should play.
For more information, please visit this page.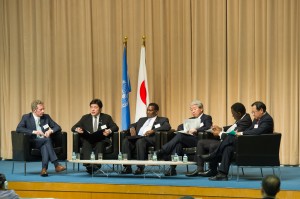 (From left to right) Einsiedel (Director, UNU Centre for Policy Research), Nakayama (Parliamentary Senior Vice-Minister for Foreign Affairs), Chaponda (Minister, Foreign Affairs and International Cooperation of the Republic of Malawi), Tanaka (Director, JICA), Osotimehin (Director, UNFPA), Hoshino (Vice President, OU)
Photo courtesy of: Christophersen / UNU

Recent Articles