2015.03.25
NEWS | Ban Ki-moon Addresses Tohoku University Symposium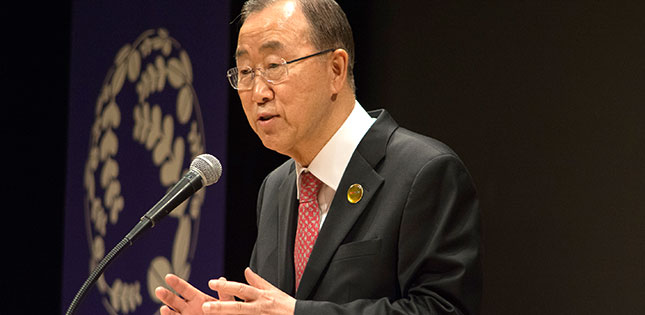 The Tohoku University symposium on lessons learned from the Great East Japan Earthquake was held yesterday, with an opening address from the United Nations Secretary General Ban Ki-moon.
Ki-moon began his speech by saying that Tohoku University is a valuable member of the United Nations Academic Impact, an initiative he launched a few years ago. He recalled visiting Japan after the Great East Japan Earthquake, and talked of the terrible damage that had taken place. Despite all that the region has been through, he deeply appreciates how Sendai is sharing lessons learned from the disaster, so that the global community can use this as a framework for disaster mitigation.
He says that reconstruction should be seen as an opening for change, and for investment in measures to create disaster resilient communities. Climate change is increasing the risk of natural disasters and disaster risk management is something that all communities need to support.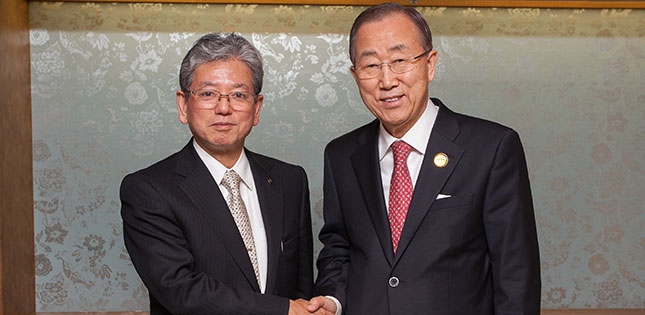 Ki-moon took the opportunity to draw the audience's attention to Cyclone Pam which hit the islands of Vanuatu yesterday, causing widespread devastation to the area. He said that while we cannot prevent natural disasters, we can reduce risks, and reiterated the need to be prepared so that we may respond with urgency to disasters. The international community must stand ready to help the people of Vanuatu.
Following Ki-moon's speech, a student from Tohoku University who was a high school student at the time of the Great East Japan Earthquake said that the disaster had changed her course of life. She asked him how she could best contribute to help those in need around the world. Ki-moon answered that while Japan makes large contributions to global aid, the average individual in Japan wants for nothing. As young people in Japan will be the leaders of tomorrow, they should raise their vision to become global citizens, see the challenges that people are facing around the world and reach out to help them.
He went on to say that there are many people with problems around the world living in abject poverty or with disease; where human rights and dignity is abused because of gender, religion or ethnicity. Ki-moon says it is a priority of the United Nations to make a world where human dignity is respected, and to make sure that no one is left behind.