2019.04.23
Introduction of Toyohashi University of Technology
Toyohashi University of Technology (TUT hereinafter) joined UN Academic Impact (UNAI) as a member in May 2018, and continues its effort in undertaking various activities on campus as well as in the community as described below.
Our policy to undertake principles of UNAI
Dr. Onishi, the President of TUT, has announced "Onishi Plan 2019" for the fiscal year 2019, in which he demonstrated a strong commitment whereby the University will tackle global issues such as poverty, food security and water scarcity, urbanisation, environmental degradation and climate change through which process contribute to the achievement of Sustainable Development Goals (SDGs), as a responsibility of member of UNAI.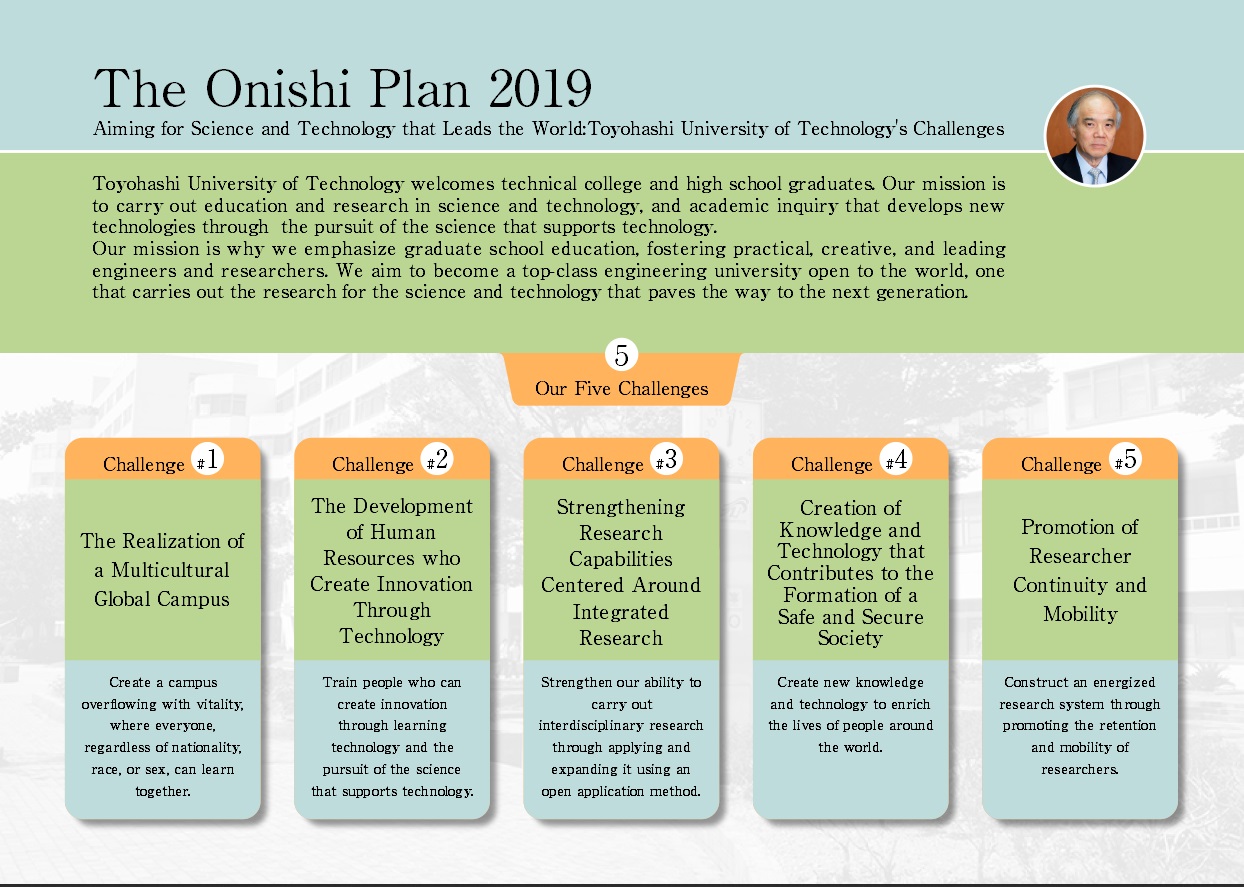 The Onishi Plan 2019
---
Activity in the community
[Principle 10: A commitment to promoting inter-cultural dialogue and understanding, and the "unlearning" of intolerance, through education.]
Since 2018, TUT has been implementing a "Global Rotation Program for Engineering Education Centred on ASEAN and African Countries", funded by a MEXT Scholarship (University Recommendation under the Special Program 2017).
This program provides a teacher-training course for doctoral students, especially for those who haven't obtained doctoral degrees, in order to support the development of higher education in ASEAN and African countries. In October 2018, eight international students from Rwanda, Tanzania and Indonesia joined this program.
In December 2018, these students taught an active learning class to students of Toyohashi Higashi High School, in which they discussed topics relating to Sustainable Development Goals in their countries. (Reference: Toyohashi Higashi High school "SDGs program"). This class experience is scheduled to be repeated in 2019 and beyond.
---
Activities on campus
[Principle 4: A commitment to the opportunity for every interested individual to acquire the skills and knowledge necessary for the pursuit of higher education, Principle 9: A commitment to promoting sustainability through education]
Two seminars were organised by IGNITE (Institute for Global Network Innovation in Technology Education) in February and March 2019 and held in the campus of TUT
The first seminar was titled as "Think about Sustainable World though SDGs", inviting Mr. Uchijima, the Director of Partnership Programme Division of JICA Chubu Centre. It provided a good opportunity for staff and students of TUT to deeper understand SDGs and to think about the association between SDGs and their work and study.
The seminar in March was about "Statistics of International Students in Japan ~from the point of view of corporate management and human resource strategy~" lectured by Mr. Nakatsukasa of EY ShinNihon LLC. Participants grasped the situation of international students in Japan through latest statistics, and potential fields of career development.
Apart from the seminar series, a questionnaire to identify the fields of research and study of faculty members of TUT which contribute to the achievement of goals of SDGs is underway as of April 2019.
IGNITE Seminar in March 2019

Recent Articles