2019.10.16
Active Utilization of Afforestation Materials from Japan
Professor Hiroatsu Fukuda in the Faculty of Environmental Engineering Department of Architecture has been conducting research on the active utilization of afforestation materials from Japan in a joint industry-academia endeavor with Sanei Architecture Planning Co., Ltd. of the Meldia Group. He carries out research and development of manufacturing methods for engineered wood that will transform the marketability of cedar wood (planted in large quantities in Japan), which lacks cost competitiveness compared to imported wood, into attractive wood that has a competitive edge. Achievements include obtaining a patent for "Method for Manufacturing Laminated Wood" (patent no. 6530865) in May 2019.
In July 2019, construction began on a laboratory and research facility on the Hibikino Campus of the University of Kitakyushu to further promote full-scale experiments and research.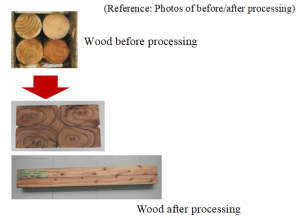 Click here for a press release from Sanei Architecture Planning.
https://san-a.com/wp/wp-content/uploads/2019/06/20190620_ir.pdf
http://office.env.kitakyu-u.ac.jp/kangiken/files/3115/6196/8561/20190621san-a_press.pdf

Recent Articles