2020.01.09
United Nations Academic Impact Membership Commemorative Symposium "Spreading Your Wings Out into the World through SDGs"
Held on Wednesday, November 20, 2019, the symposium featured a lecture by United Nations Information Centre director Kaoru Nemoto titled "Become Someone Who Changes the World by Making SDGs Relevant to You: How to Cultivate the Skills to Think Globally and Act Locally." Around 280 people attended, including students, faculty, and the general public.
Kaoru Nemoto talked about the historical background and timeline of SDGs, the state of the world and the challenges it faces, and what we can do about them, from a wide range of perspectives. The symposium also featured presentations by university students on their activities and a panel discussion between Nemoto and university faculty. The panel participants talked about SDG efforts at the university and Nemoto told the audience that in order to build a society that leaves no one behind, we need to become actively involved in achieving SDGs by learning about the problems Japan and the world face and figuring out how to tackle them locally.
The university plans to leverage its membership in the UNAI to convey its SDG efforts to the world and further drive activities to create a sustainable society.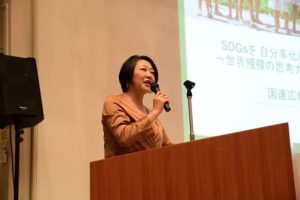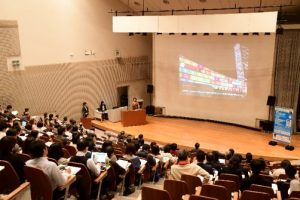 Recent Articles