2021.08.11
Bergamo University, Italy and Kaishi Professional University First Online Exchange Meeting Report
October 30, 2020 Bergamo University, Italy and Kaishi Professional University
First Online Exchange Meeting Report
On October 30, 2020 (Friday) an exchange meeting was held with Bergamo University, Italy.
As a part of Kuniko Tanaka's course. Kuniko Tanaka, who is a specially-appointed professor in the Faculty of Foreign Languages at Bergamo University, is in contact with Chikako Doki, lecturer in Business Creation Faculty at Kaishi and is also involved in research on young Italians. On this basis, an exchange meeting was set up between students at Bergamo University, Italy and our own students.
Twelve students from Kaishi Professional University and eleven students from Bergamo University specializing in Japanese took part on the day. The meeting was held online.
In the Business Creation Faculty, Professor Kazuo Haraoka is in charge of the "Business Communication" class and students who had prepared presentations about the charms of Niigata and Kaishi polished these up for the online meeting.
– geography of Niigata
– winter sports
– presentation of favorite ramen shops and famous local delicacy Tochio abura-age
– features of university
– presentation of university canteen and local shops and restaurants
Kaishi students made presentations on these topics.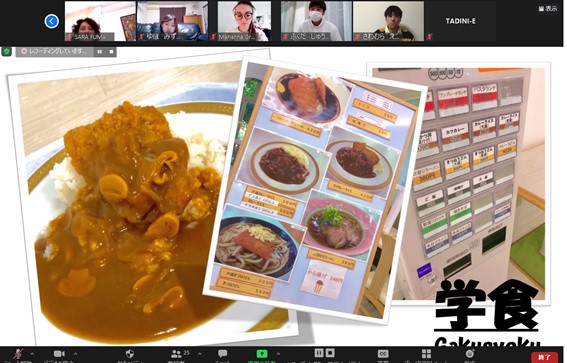 ▲Slides used during presentation
Afterwards, students who had not made the actual presentations also took part in a Q and A session.
There were various exchanges.  For example all participants replied to questions from the Italian students about their favorite Italian food, and the Japanese students asked the Italian students about why they had chosen to study Japanese.
The time set aside for the meeting was over in the blink of an eye.
Next time we will report on the second exchange meeting between Bergamo University and Kaishi Professional University.

Recent Articles