"We also need better understanding of what happens to rural people and their cultures when they are forced from their home localities or even far from familiar regions and ecosystems."
BEN WISNER
Director of International Studies, California State University at Long Beach, USA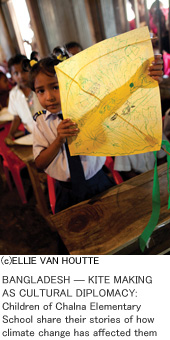 One of the myths current today, spread by media events such as Al Gore's film, An Inconvenient Truth, is that everyone will be equal in facing the ecological and human catastrophe of climate change. This is simply not true. Clear thinking about climate change and its likely impact on cultural integrity, transmission, and diversity requires that one take note of the glaring differences today among people on the planet.
Urgent need to identify winners and losers
Climate change will produce winners and losers. Africa and poor Africans will be more heavily impacted.1 They and their governments have meagre technical and financial resources to provide capital-intensive buffers against the impact of climate change. For example, only one per cent of African agriculture uses irrigation.2 Most people in rural sub-Saharan Africa to some extent remain dependent on rain-fed agriculture and livestock. While this is also true of a substantial number of rural people in northern China, parts of South and South-East Asia, Central America and the Andean countries, in most cases the nation-states in those regions have more capacity to assist rural people in adapting their livelihoods.
Urgent need to understand and support
people's spontaneous adaptation
Cultural adaptation to climate change is going on right now. Isolated groups of rural people in the Andes, the mangrove-forested coasts of South-East Asia, and the savannas of Africa are not passively waiting for experts to come and tell them how to adapt. It is urgent to understand how rural people understand climate change and what they, themselves, are doing about it. Capacity for doing the participatory action research required to reveal spontaneous adaptation needs to be built up in countries where, to date, the emphasis has been on technical modelling and national policy formulation.
Urgent need to prepare for
population displacement
Climate change will exacerbate current trends in rural depopulation, international wage migration, forced displacement due to mega-projects, and the flight of people from conflict areas. Today international institutions and non-governmental organizations are experienced in dealing with the problems produced by refugees and displacement. The Office of the United Nations High Commissioner for Refugees is one, the International Organization for Migration is another, the United Nations Development Programme has specialists who work on post-conflict recovery issues and UNICEF, the United Nations Children's Fund, has developed expertise in providing continuing education for the children of the displaced. Yet none of these agencies has enough resources, and the demands on them are bound to increase. They need more financial support.
We also need better understanding of what happens to rural people and their cultures when they are forced from their home localities or even far from familiar regions and ecosystems. Specialist academic and clinical centres in the world have worked for some time on post-conflict issues. In a similar way, many centres of development studies have done research on employment strategies, retraining people for new livelihoods, and creating jobs. The health specialty known as "cultural psychiatry" has concerned itself with the impact of migration from one culture to another, but the treatment is individualistic; it is not concerned with the impact on the culture per se, or its transmission and survival. Developing regional centres that study this set of problems from an applied point of view is also an urgent priority.
Recommendations
From this sketch of the key issues, nine specific recommendations follow:
Build local capacity to understand the knowledge and beliefs of native people about climate change and their attempts to adapt their livelihoods to changing conditions.
Capture stories from the older generation of how they coped with extreme events and crises in the past. Understanding the oral history of people's past efforts to cope and adapt can hold the key to present and future solutions; yet this history is being lost.
Train technical workers, such as agricultural extensionists, veterinarians and livestock specialists, and water engineers and planners to appreciate and respect local knowledge.
Train policy makers to appreciate and respect local knowledge without looking through modernizationist and colonial lenses, seeing it as merely an obstacle to progress.
Train media representatives to see cultural diversity as akin to biodiversity, as a resource for the whole of society, allowing innovative ways of adapting to climate change based on a dialogue between local knowledge and outside specialist knowledge.
Integrate understanding climate change into ongoing efforts to give special attention to women and children in development. This includes work on employment and microcredit, and in areas of energy technology and forestry, health, food security, water supply, and sanitation. Knowledge from women and children about climate and how to cope with extremes should be taken seriously.
Redouble efforts to enforce cultural impact assessment and countermeasures where rural people are unavoidably relocated from mega-project sites.
Incorporate climate change into school curricula and learning materials, paying attention to the needs of minority language speakers.
Identify historical buildings and structures of special cultural significance likely to be harmed by stronger coastal storms, flooding, landslides provoked by intense rainfall, and rising sea levels. Take steps to protect or to move them. Do this in consultation with the groups of people for whom the structure has particular cultural significance.
Notes
1 Fourth Assessment Report of the Intergovernmental Panel on Climate Change, 2007.
2 InterAcademy Council, 2004.