LOTTE N. GOEDE
Director of Development for The SimplyHelp Foundation which has consultative status with the United Nations Economic and Social Council
DONNA PULESE
Freelance writer / Educator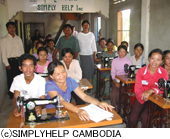 Mom Phoeun, who lives in rural Cambodia, lost his father at a young age, and his mother is suffering from chronic illnesses. With cow herding being their only source of income, they could not make enough money to pay for her rising medical costs. Mom Phoeun sought relief by attending the SimplyHelp Tailoring School which had just established itself in his village. By learning a trade and distinguishing himself, Mom Phoeun is now not only able to support himself, but can also provide for the care that his mother desperately needs.
Cambodia is a country burdened with a legacy of conflict. The Khmer Rouge, led by Pol Pot, seized power in 1975. An estimated 1.7 million Cambodians died; most intellectuals and educated people were executed, and their cultural heritage destroyed. The devastation of the Pol Pot regime remains with the people of Cambodia, now one of the poorest countries in the world.
In 2001, the SimplyHelp Foundation decided to establish a branch in Cambodia. The Foundation's two vocational training schools — a Tailoring School and a Computer School — have over 4,000 graduates, of which 85 per cent find jobs working for large companies, in banking, for non-governmental organizations or open up their own storefronts. Some go on to higher education.
Mobile Tailoring School — Sewing up Poverty Wounds
The SimplyHelp Tailoring School opened its doors officially in 2002. Many had the means to learn not only a trade but how to be self-sufficient. The school is mobile and goes to poor villages in the middle of rice fields where it is needed most. When a farming village is chosen as the school's next destination, the village chief opens up his home and turns it into a temporary school. A highly-qualified master sewing teacher is sent from Phnom Penh to this village two or three days a week to train two assistant teachers who teach on the days she is not in the village. There are two classes per day, which allows the students to go t
o school either in the morning or afternoon, and to work their land the other part of the day. Students are trained for six months and classes are free. Since its inception, the school has moved eight times and, to date, has graduated 1,686 students.
The need for this type of education in rural Cambodia is staggering. In the village of Krang, for example, within three months after graduation, ten out of eighty graduates established small businesses in their living rooms with just a sewing machine and some fabric, and all of them have been able to earn good money. In other villages as well, graduates have opened tailoring shops which provide them with steady, reliable incomes — in sharp contrast to the difficulties that go along with being farmers. Some of these shops have developed into authentic-looking businesses with glass displays, beautiful clothes, and proud owners.
Tailoring School's Social and Economic Impact
Former tailoring school graduates who have started their own businesses have taken on apprentices, thus passing on their knowledge. These apprentices pay the master tailor $150 and can stay with the tailor until they have mastered the essential skills. When asked why they choose to pay $150 to learn the trade when they can get paid to learn it at a government school, their answer is "quality!"
According to Vuthi Seng, Coordinator of SimplyHelp Cambodia, the social status of women changes after graduation. "Young Cambodian rural women traditionally have to stay home," he says. "However, once a young lady graduates from the SimplyHelp Tailoring School in her village, which takes much less time than the two to three years required in a private school in the capital, she has a skill and can earn an income. She now has a more equal relationship with her husband; otherwise she is treated as a subject to her husband and has little decision-making power in the home."
Additionally, not only does this heightened income affect a woman's social status, but it affects a community at large. For instance, all students at the tailoring school are farmers and cow herders and have an average income of $1 to $2 per day. But graduates with their own businesses increase their average income from $3 to $7 per day. This extra income is not only used for basic needs, but is also re-invested in their own businesses and in their communities.
Computer School — Processing 
The Possibilities
The SimplyHelp Cambodia Computer School also opened in 2002 and is located in the capital Phnom Penh. Due to the high-quality training and low cost, 200 to 250 students apply for the 100 available training spots every three months. Typically, the students selected are from low-income households, orphans, or have a disability. During these classes they learn Microsoft Word, Excel, and PowerPoint. From 2002 to 2009, the Computer School had 2,784 graduates.
The school's teacher, Sophat Phoung, is a disabled young man from a rural area of Cambodia. Due to an accident in his early childhood, his right leg does not function anymore, which significantly reduced his job opportunities. So in 2002 he attended the computer school and worked as a volunteer after graduation. Due to his hard work and dedication, he was hired as a teacher in the school in 2003 and not only can he support himself now, but he can also provide income for his family.
Computer School's Social and Economic Impact
There are signs that Cambodia is catching up with the rest of the information technology world as the Computer School has seen an increase in demand for more specialized computer training in QuickBooks, Photoshop, Access, and Peachtree.
A notable trend is that, although there are more male then female students, the number of female students has steadily increased over the years. Common jobs for graduates include data entry for companies or working at the cash register in supermarkets. It might not occur to people in the West that one needs to have basic computer skills to operate a cash register. Many others become business managers, administrators, or teachers, such as Ky Bun Heang, who became executive director for a Japanese NGO operating in Cambodia and specializing in the education field; Miss Chea Lida, who became a manager at one of the most successful Cambodian Banks; or Mr. Nuty, who became a provincial manager at the Department of National Treasury in Rattanank Kiri province.
SimplyHelp Cambodia is an educational model for economic and societal success, but certainly more work needs to be done. No matter how small or large, it is critical to support these kinds of vocational education endeavours which not only help individuals build a new life for themselves, but also help perpetuate a self-sustaining community.